We work with an extensive network of great organisations across Europe, from VC funded startups to public sector bodies and scientific research institutions.
Looking for Ruby work?
Enter your email and we'll get right back to you.
Our recruiters have found work for developers in London, throughout the UK, and European cities such as Berlin, Paris, Barcelona, Stockholm, and Madrid. We cover full-time Ruby jobs and freelance work, so it's quite likely we can find a great team for you.
Since we were established alongside a development team, we're a little different to other recruitment agencies. Our recruiters will never waste your time with jobs that are not likely to be of interest, and we don't cold call companies to speak to developers. If you are looking for work, you can also see some new Ruby on Rails jobs over at Blockly Recruitment.
Ruby on Rails Salaries
Ruby developer salaries have been steadily rising since the birth of Rails. ItJobsWatch provide aggregated salary information for UK tech jobs with average salaries for London Ruby on Rails jobs graphed below.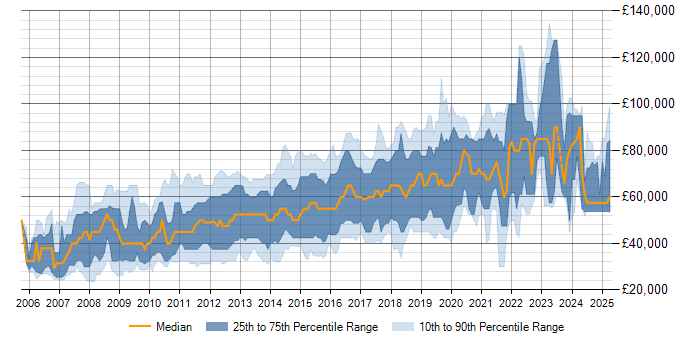 Having worked in Rails teams ourselves and run ruby-based projects, we are not your average recruiters. Our team have worked in startups, managed many agile sprints and SCRUM processes.
Rails Update
Now that we are up to Rails 4.x and likely running at least Ruby 1.9.3, Rails 4 has deprecated various things (specifically around Active Record) and packed them into separate Gems. Dalli is also now being used for memcached, rather than the default memcache-client. One nice addition is that Active Record in Rails 4 supports PostgreSQL's hstore extension, making it very performant and allowing us to define key/value pairs on the fly. You can read all about the changes in Rails 4 on Engine Yard's Blog.
Ruby50 was founded in 2009 as an offshoot of Dynamic50, one of the first Ruby development agencies. Our team also run Blockly Recruitment to focus on Ruby on Rails jobs, along with JavaScript, Go, Front-end developers, and DevOps engineers.
Find a Ruby Job
Whether you are looking for freelance work, or a full-time Ruby on Rails developer job, we can help. Contact us and we'll get right back to you.